Expert Services | Litigation Support
Mold and Water Damage Investigations of Insurance Claims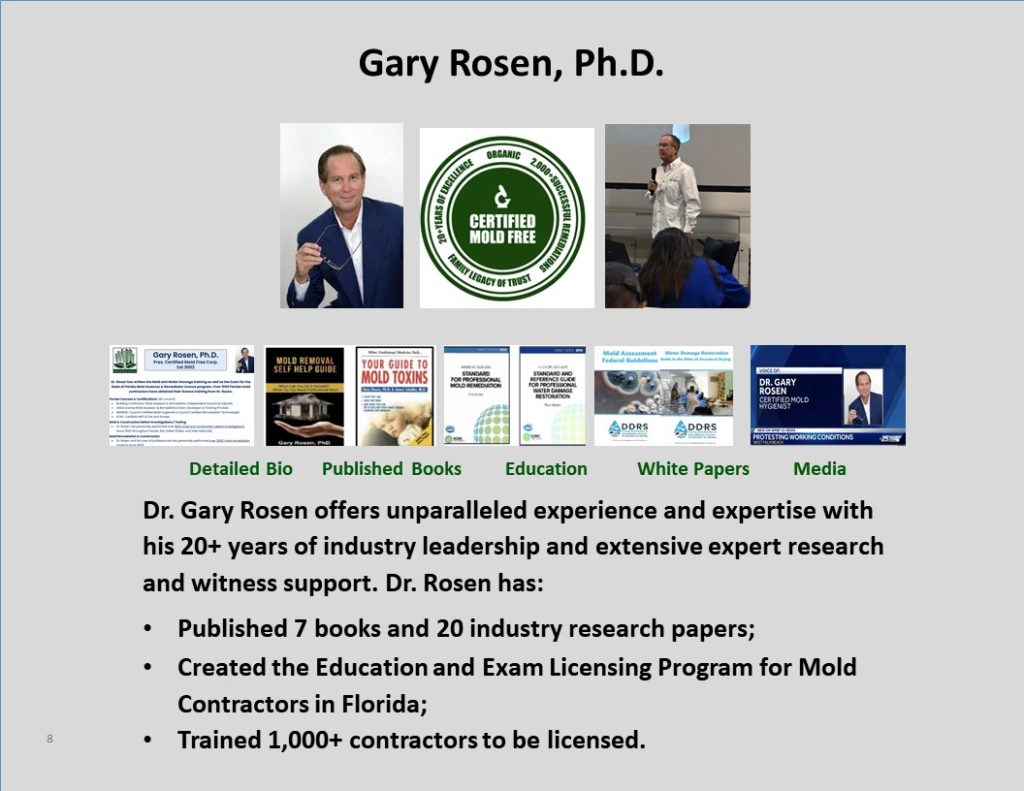 Expert Witness
IICRC-compliant water damage inspections
Cause and origin of water damage
Review / analysis of expert reports, photos and opinions
Help with preparing deposition questions for opposing experts
Interpreting microbial sampling results
Determining the first 13 days of water damage

Water and Mold related Construction Defects
Dr. Rosen has a great deal of practical experience having personally performed over 1000 mold and water damage assessments and over 2000 mold remediation and restoration/rebuild jobs. 
As a property insurance litigation expert, Dr. Rosen specializes in the determination of the cause, origin and duration of water losses associated with insurance claims. In this capacity he conducts site investigations and, when necessary, serves as an expert witness.
Every case is unique. Dr. Rosen calls on his background in mold and construction defects, remediation, IICRC mold remediation and dry-out standards, insurance adjusting, and his scientific background and analytical skills to support the specific litigation, whether for Plaintiff or Defense. No boilerplate reports.
Dr. Rosen focuses on a few, key areas:
Improper and/or unsupported mold and water damage insurance claim denials.

Failed Carrier Managed Repair Water Damage Mitigation.

Failed or Improper Assessments or Remediation.
Dr. Rosen has the honor of being one of a handful of State-Approved Initial Mold License course and exam developers, and has trained over 1,000 students for their State Mold Assessor and Mold Remediation licenses.
Dr. Rosen supports his opinions by referencing materials in his State-Approved Mold Licensing training courses as well as his own research along with both Federal and Industry Standards.
Please see example works at his public Expert Services Materials folder.
See What People Are Saying About Us
The More You Know, The Better We Look
Connect with Dr. Rosen (954-614-7100 or gary@mold-free.org) for a free confidential case review on cause and timing of water damage/mold.